5 Reasons To Switch To Personal Training From Group Training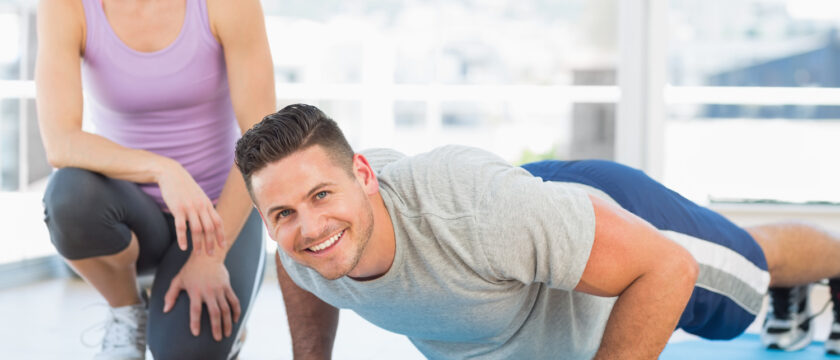 5 reasons to switch to personal training from group training
Training routines, be it for personal fitness or a marathon is extremely subjective. It needs to take into account the needs and stamina of an individual and in a group training setup, this cannot always be the case. In terms of the overall experience, a personal trainer will take into account your wants and needs to customize an exercise routine from scratch based on your current level of fitness. The routine will enable you to set realistic fitness goals for yourself as opposed to working out in a group where a common fitness goal is set according to the workout regime.
Another thing to consider is how with a personal trainer, you are at liberty to fix a schedule for the workout based on your preferences. Personal trainers also devote their undivided attention to help achieve your fitness goals for weight loss, sports preparation, and even athletics as opposed to group training.
Here are 5 reasons for you to consider switching to personal training over group training.
Easy scheduling and flexibility
One of the main benefits of personal training over group training is the ability to schedule workout sessions with your trainer as per your convenience. This flexibility of timing is not possible in a group workout session as the trainer will not be able to accommodate individual timing preferences. Group sessions are conducted at a fixed time and place, decided in advance by the trainer or the gym manager. A personal trainer will allow you the liberty of booking appointments as per your convenience solely. Unlike a crowded gym, a personal trainer also allows for the flexibility to workout anywhere you like, be it from the comfort of your home or even in the neighborhood park.
Custom workout
Group sessions are designed to benefit a group of people who might have similar fitness goals to achieve over the course of the workout. Group trainers don't have the luxury of catering to individual needs. A personal trainer, however, takes into account your favorites and interests to make a custom workout plan to help achieve your fitness goals. The workout is fun when you work with someone who puts your needs first. Custom made workouts yield better results in most cases as the trainer can focus on one client at a time.
Reduced risk of plateauing
Plateauing is one of the more worrying concerns during a workout progression. In plateauing, the body reaches a state of little or no change when it gets used to the exercise routine. After a point, an exercise will only yield minimal results in terms of fitness or mass. A personal trainer will be able to give you undivided attention to ensure variations of the same exercise to reduce the risk of plateauing. This is not possible while working out in a group as the personal trainer cannot alter the group session to benefit just one person.
Special care and training
A group workout by nature is designed to benefit everyone and the results will vary from person to person. It is the reason why a group trainer might fail to accurately gauge differences and weaknesses in your diet or the workout. Group training might be good for a motivational session as exercising with friends always hypes one up. However, only a personal trainer can provide special attention for training necessary for athletic and sporting events. The difference in the method of personal training vs group training determines the end result.
Attention to form
Last but not least, a massive benefit of personal training over group training is individual attention to form. It is not possible for a trainer to give special attention in a group session. When everyone is working out simultaneously, it becomes difficult for the trainer to watch and critique individual performance. Lack of attention can affect your form of exercise and improper form can lead to injuries that damage the nerves, muscle or bones. A personal trainer, on the other hand, will take into consideration your previous workout regime, injuries, strengths and weakness to ascertain the best possible form for a particular workout routine.
Join our community of health and wellness enthusiasts today !!
Whether you're looking for new workout ideas, healthy recipes, or information on sexual health, we've got you covered