6 Amazing Benefits Of Hula Hooping Every Day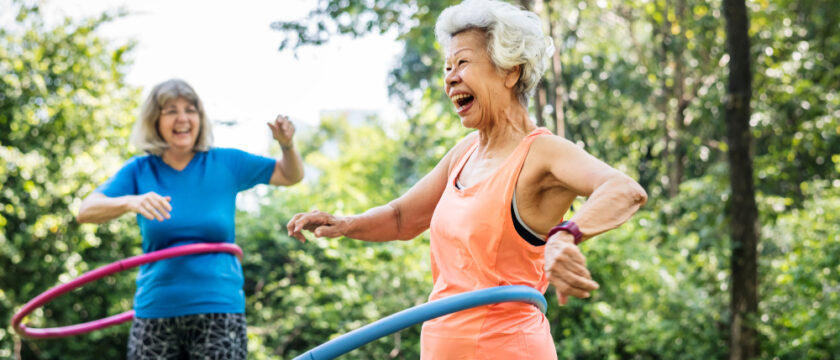 6 amazing benefits of hula hooping every day
Have you wondered which workout routines celebrities perform to maintain their amazing bodies?
For instance, do you know which exercise regime Catherine-Zeta Jones follows to ensure that she looks as lithe and youthful at the age of 49 as she did when she was in her 20s?
Well, here's a shocker coming your way: she and other celebrities like Kelly Osbourne vouch by the effectiveness of hula hooping every day!
Hula hooping is an incredible way of burning 200 calories in 30 minutes, and you wouldn't have to keep walking or running on the mundane treadmill to accomplish this feat. It's not just kids who love hula hoops, once you get used to the hypnotic rhythm of hula hooping, you will start enjoying it more than any other aerobic or cardio exercises you have performed. Hula hooping can be practiced by anyone, irrespective of their age. Another reason to include hula hooping in your exercise regime is that it is a complete body workout!
If you still have your reservations about the benefits of hula hooping every day, read on to learn the different ways in which hula hooping proves to be the ultimate aerobics workout for you.
Burns fat
Those love handles can be quiet annoying. If in spite of adhering to a balanced diet and following a regular exercise regime, those love handles or the flab shadowing the perfect washboard abs underneath it doesn't disappear, you can switch to using hula hoops instead. Hula hoops might appear quite simple, but hula hooping involves all the major muscles in the body, and these muscles need extensive energy to perform these exercises. As a result of this, these muscles are forced to burn their fat stores, thereby, leading to a significant fat loss.
Tones the body
Hula hooping is a complete body workout and is instrumental in toning all the major muscles in the body, especially, the core muscles. Exercising with hula hoops on an everyday basis can strengthen and tone the glutes, hips, knees, legs, and the abdomen. Also, there are certain hula hooping exercises which involve using one's forearms and shoulders. By doing so, you will also be toning up your arms and strengthening your shoulders. If you opt for weighted hula hoops, they will add more resistance that can help in toning up your muscles faster.
Improves balance and coordination
Contrary to what people believe, hula hooping requires a certain degree of skill that you can perfect over a period of time with practice only. To get your hula hoop exercises right, you need to hone your balancing skills. In fact, hula hooping requires rhythm without which you cannot hoop. With regular practice, you will get better at hula hooping and enhance your balance and coordination while you are at it.
Increases your fitness level
Hula hooping is an incredible aerobic exercise, and it is one of those low-impact exercises that can enhance your endurance if you practice it for 10 minutes every day. In fact, dedicating 10 minutes of your daily schedule to hula hooping can increase your body's aerobic activity, and you can burn the same number of calories that you would if you hopped on the treadmill for half an hour. Hula hooping is the perfect aerobic exercise for people who have certain mobility limitations and cannot perform other aerobic exercises like Zumba.
Improves your mood
If you detest walking aimlessly on the treadmills or cannot bear the excruciating pain caused by sore muscles after a strength training session, then hula hooping might be the perfect exercise for you. Hula hooping is fun and you won't consider it a task while you are at it. Moreover, hula hooping will improve your mood and can increase your confidence manifold.
Improves the flexibility of the spine
If your sedentary lifestyle has resulted in a strained back and this inhibits your movements, then this is the right time for you to turn to turn to hula hoops. Hula hooping involves a range of motion for the spine that can diffuse the pressure building up on the spine. If you perform the different range of motion exercises with your hula hoop, they will improve the flexibility of your spine and prevent back injuries in the future.
Join our community of health and wellness enthusiasts today !!
Whether you're looking for new workout ideas, healthy recipes, or information on sexual health, we've got you covered