6 Easy Park Workouts Every Beginner Should Try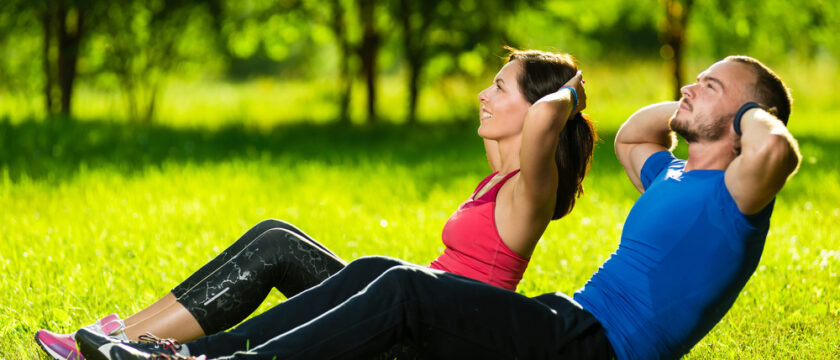 Gym is probably the first word that comes to our mind when we talk about fitness! However, consistently working out in a closed space can eventually douse your fitness motivation as it gets tedious. This is one of the reasons why numerous individuals, at the moment, are switching to park workouts. As the name suggests, park workouts focus on using open, green spaces for daily exercises. Not just the fresh air, some studies demonstrate that park workouts can help burn more calories, improve mental and physical energies, and keeps infections at bay. Primarily, it proves to be beneficial because outdoors constantly challenge your body with different types of obstacles, keeping your regime versatile. Moreover, it's absolutely free!
If you are planning to ditch the gym and embrace nature, then here are some easy park workouts that you can start with.
Bench jump
To do this exercise, you need to stand in front of the bench, with slightly bent knees and balance the weight in the heels. Then jump up on the bench, ensuring a soft landing with bent knees. Step down with one foot at a time and repeat the process. Bench jumps are great park workout, especially if you want to tone and strengthen your calves and improve balance and coordination. Furthermore, since this is a high-intensity workout, it helps burn more calories.
Park bench push-ups
Grasp the edge of the bench with both your hands with a comparatively broader distance than the shoulder width. Take a few steps back, so that your body has an inclined posture and elbows are tucked away at your sides. Once you are comfortable in this posture, lower your torso to perform a push-up. Hold this position for around five seconds and raise your torso again. Park bench push-ups fortify the muscles in the chest and hands, and help build core strength.
Monkey bar pull-ups
Monkey bars are a perfect replacement for your pull-up bar at the fitness center. Regularly doing pull-ups will do wonders for your physique, especially your upper body. This park workout helps enhance shoulder muscles, biceps, and abdominal muscles. Similarly, it improves your grip strength and develops better physical endurance.
Tree plank
If you have always detested doing planks due to the level of balance and dedication they require, then you should try its park version. All you need to do is get into the plank position but hold your feet up against a bark of a tree. This will help support your body and prolong the plank posture. Doing tree planks every day can alleviate back pain, improve body posture, balance and flexibility, and tone the abdomen.
Park bench dip-and-kick
Like the inclined push-ups, this workout also involves the use of a park bench as an equipment. Start the exercise by sitting on the edge of the bench with both your hands at each side of the hips. Then slowly move your hips forward and support the body weight with the help your hands. As you bend your elbows to 90 degrees, gently bring the right knee up to the chest. Gradually straighten your arms and extend the right leg forward in a horizontal, kicking position. Repeat this exercise with the other leg. Park bench dip-and-kick targets fat in areas such as arms, abdomen, and thighs.
Hanging crunch
To do a hanging crunch, find a monkey bar or a sturdy branch of a tree. Try and keep the arms extended and then slowly exhale as you bend your knees and pull them towards your abdomen. Return to the previous position and take a deep breath. Hanging crunches are amazing for people who want to tone down their lower belly and get abs.
Join our community of health and wellness enthusiasts today !!
Whether you're looking for new workout ideas, healthy recipes, or information on sexual health, we've got you covered