6 Incredible Benefits Of Practicing Power Yoga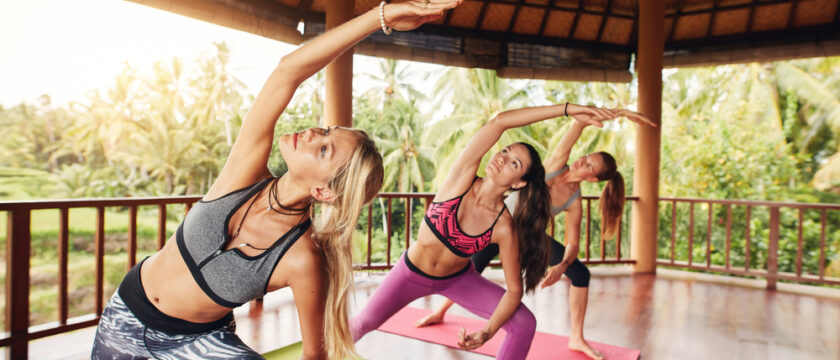 With the current stressful lives we lead, we unintentionally open the floodgates to a variety of ailments that can wreak havoc in our bodies in no time. The sedentary lifestyle coupled with unhealthy eating habits have already brought us on the verge of a serious health scare. Which is why, it becomes necessary for everyone to devise ways to stay fit and resort to a healthy and balanced diet. You can choose any physical activity to lose a few pounds or simply stay fit. However, people often limit their endeavor to stay fit to joining the gym, and those who aren't comfortable with sweating it out in the gym find it difficult to work out at the gym regularly.
To ensure that you remain loyal to your fitness regime, you need to choose an exercise routine which you will enjoy adhering to and this will definitely yield positive results. One such physical activity that has been gaining popularity across the globe for its effectiveness is power yoga. People are familiar with the vinyasa-style yoga, but power yoga takes it a notch up by adding a vigorous, fitness-centered approach to this traditional form.
Power yoga is one of the latest fitness regimes and even your favorite celebrities vouch by it. If you are looking for the right fitness regime, power yoga can be a leading contender because of the following benefits it entails.
Energizes you
Instead of leaving you winded and tired like other strenuous physical activities usually do, power yoga energizes you. The various asanas that you practice are instrumental in improving your blood flow, burns calories more efficiently, and even enhances your metabolic rate, thereby, promoting weight loss. Moreover, power yoga being a high-intensity workout, helps you unwind and energizes you while doing so. Also, it reinforces a positive mindset and prepares you for the day ahead.
Increases flexibility
Yoga increases the body's flexibility and power yoga also does that exactly that. Moreover, power yoga reduces the risk of any injury you might be susceptible to, enhances muscular relaxation, improves your posture, and improves the blood flow, which, in turn, improves overall movement and performance.
Strengthens the immune system
A weak immune system is what makes you more susceptible to contracting certain ailments. Power yoga has the ability to lower the stress hormones that can damage the immune system. The various asanas are meant to reduce stress and strengthen the muscles as well as the immune system by helping you relax. Practicing power yoga regularly ensures that you become mindful of what you are putting your body through and can help curb stress.
Builds muscles
Contrary to popular beliefs that power yoga merely increases the body's flexibility, power yoga works wonders for your muscles as well. Power yoga allows you to build muscles without lifting heavy weights. In addition to helping you build those muscles you always desired, power yoga even increases your energy levels, improves overall physical strength and makes your bones stronger. Power yoga goes a long way in preventing the risk of developing arthritis or osteoporosis in old age.
Promotes weight loss
Yoga helps people lose weight, but it will take time to shed those extra pounds. Even power yoga promotes weight loss but faster than its eastern counterpart. Power yoga is more intense than Ashtanga (regular) yoga and helps you burn more calories and increases your metabolic rate. In fact, you can burn up to 200 calories per session, and what makes power yoga the ultimate weight loss exercise is that this workout can be performed by people of all ages and fitness levels. This means that your ideal body is just a few regular power yoga sessions away.
Eliminates toxins from the body
People feel refreshed after a session of performing the intense asanas. This relaxation is not merely your muscles relaxing, it is the toxins leaving your body. Power yoga does an incredible job of eliminating toxins from the body. It strengthens your immune system and drains the lymphatic system so that your body can fight off infections and stay healthy.
Join our community of health and wellness enthusiasts today !!
Whether you're looking for new workout ideas, healthy recipes, or information on sexual health, we've got you covered