Top Fitness Trends of 2023
By Ann Murphy, Certified Fitness Nutrition Specialist
Last Updated on June 19th, 2023 / Published on April 13, 2023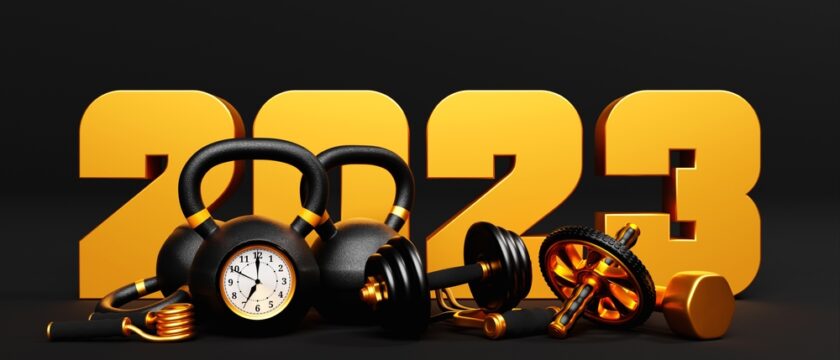 The health and fitness landscape is witnessing innovative changes, with the inclusion of new technology-driven techniques. Old routines are being enhanced, while tried and tested workouts are seeing a revival. In 2023, fitness trends like virtual reality workouts, fitness classes, mobility training, and more are all set to become mainstream.
Level Up Your Fitness Routine with Trending Fitness Exercise Workouts in 2023
Get ready to elevate your fitness routine with the hottest exercise workouts and fitness trends of 2023! Are you just putting your first step towards your wellness journey or you are a fitness enthusiast, this list of trending fitness workouts and class ideas will inspire you to reach new heights. From high-intensity interval training to mindful movement practices, we've got you covered with the latest fitness trends that will keep you motivated and engaged.
Discover the top exercise workouts that will take your health and fitness to the next level in 2023. Let's dive in and explore the exciting world of fitness trends together!
1. Diversifying Workouts With Workout Stacking
Workout stacking is emerging as the perfect way to diversify one's workout. The general idea is to select different, short workouts to add them all up to a routine that works best for you. This way you end up training more muscle groups each day, rather than focusing on only one during an entire workout. Stacking your workouts is also a great way to stimulate your mind, as you move from one exercise to another.
This method's protocol generally includes using different exercise styles or training various muscle groups for a period of about 10 minutes. You can continue adding exercises for however long you'd prefer working out. This could look like: 10 minutes of full body yoga, 10 minutes cardio, and 10 minutes of core exercises. Another example would be 20-25 minutes of training certain muscles (upper or lower body) followed by 10 minutes of cardio or abdominal exercises.
Workout stacking also lends itself to breaking up the workouts throughout the day. For instance, you can exercise for 10 minutes in the morning, 10 minutes in the afternoon, and 10 minutes at night. This keeps you energetic throughout the day while allowing you to complete a quality workout by the day's end.
2. The Return of Group Fitness Classes
After a prolonged pause due to the pandemic, in-person group fitness or boutique gym experiences are now bouncing back harder than ever in 2023. Although working out at home seems attractive to many fitness enthusiasts, there are many who prefer the comradery and feel of competition in group classes. This adds a healthy dose of motivation for the workout, irrespective of the type of class you choose, such as spinning, treadmill workouts, boxing, dancing, and more.
Smaller sized boutique gyms offering a selection of classes and a smaller, personalized space to workout are also seeing a comeback in 2023. Boutique gyms have a more scaled-down gym experience with less people. It is ideal for those who are working up the courage to exercise in a full-sized gym, or simply want a tailored approach to their workouts.
3. VR Workouts and Wearable Tech
The Metaverse has dominated many fields, with the fitness industry being one of them. The fitness industry is growing and adapting several new workout trends. One of the most loved and adapted trends of the year 2023 is Virtual Reality Workouts. Using VR headsets from brands like Meta and Valve Index allow for a technology focused workout. Technology was heavily introduced to working out with the use of interactive workout equipment like the Peloton bike, allowing you to interact and compete with your friends through your stationary bike or treadmill. VR workouts allow you to exercise in any place of your choice, while being in the comfort of your home. Traveling all around the world to bring in a sweat is as easy as slipping on a headset.
When it comes to 2023 fitness trends, technology doesn't stop at the metaverse. Wearable technology to track and accurately monitor one's stats and vitals throughout the day is a trend that only continues to expand each year. As per Grand View Research, the virtual fitness market is expected to grow and be worth $106.4 Billion by the year 2030. From the Apple Watch, Oura ring, or WHOOP devices, wearable technology is even allowing users to track their health beyond the calories burned in their workouts. Things like stress levels, sleep quality, ear sound monitoring and more can be tracked to ensure your fitness and wellness levels remain optimized.
4. Gentle Workouts and Prioritizing Rest
In the emerging revolt against extreme dieting and forgoing unrealistic beauty standards thought to be solved by extreme workouts, another 2023 trend is to take a step back when it comes to your fitness. The biggest change when it comes to this is reframing working out as movement, rather than harboring the stress of never missing a workout. Doing things like gardening, walking your dog, or morning stretches are more valuable now. These activities are being recognized as more quality movement for the mind and body, rather than succumbing to distressed thoughts on health and fitness.
Going hand in hand with this is the increased prioritization of rest and recovery. Focusing on resting well has always been at the center of any fitness plan. Individuals are now optimizing the healing and resting processes on a larger scale. Wellness centers and fitness centers are now even offering one-on-one stretching sessions in order to allow the body to function better in other daily movements and intentional exercise movement.
5. Virtual At Home Workout Classes
Whether it be live or a recorded class, virtual at home workouts are another 2023 fitness trend still hanging on after growing during the pandemic. Free classes on YouTube, subscription-based apps, or at home cycling and treadmill workouts allow for any fitness class to be at the touch of your fingertips. The ease and comfortability of being able to workout in the comfort of your own home is essentially the most attractive part to many.
Participating in a virtual workout at home is also beneficial as it lets you choose the type of trainer to lead you through one. Having the top trainers in the fitness world at the edge of your fingertips is a surefire way to elevate and optimize your workout routine.
6. Outdoor Workouts and Retreats
While one fitness trend of 2023 focuses on internal healing through optimized rest and recovery, another one has individuals headed outdoors to connect with nature. The ability to combine both outdoor time and workout time is a win-win in treating the body well. There are plenty of benefits of following the routine of outdoor workouts. With the increase in the awareness of green environment exercise there is a huge surge in the number of people adopting outdoor workouts and retreats.
Workout retreats that are held outdoors will also allow the possibility of group classes and outdoor workouts to be paired together. Outdoor activities like hiking, walking, bootcamps, and wellness retreats are all on the list of 2023's fitness trends.
Optimizing Your Fitness for 2023
Above all else, your fitness and workout routine is just that – yours. Whether you're looking to change things up a bit or keep your pulse on the ever evolving world of health and wellness, these trends are sure to keep you on track. The biggest takeaway across all these trends is to do what makes your body and your mind feel well.
References:
Kristen Geil, N.-C. (2022, December 16). These are the fitness trends you can expect to see in 2023. Shape. https://www.shape.com/fitness-trends-2023-6891463
Mahaffey, K. (n.d.). Here are the top fitness trends for 2023. NASM. https://blog.nasm.org/here-are-the-top-fitness-trends-for-2023
Join our community of health and wellness enthusiasts today !!
Whether you're looking for new workout ideas, healthy recipes, or information on sexual health, we've got you covered