Top 5 Strength-Building Water Workouts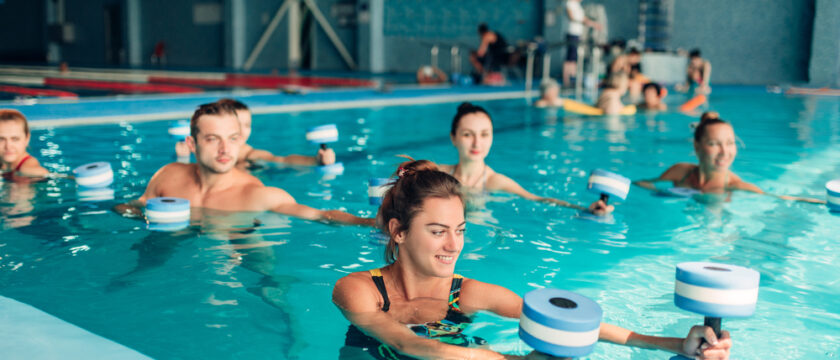 Top 5 strength-building water workouts
If you want to gain strength by doing something slightly different from the regular gym workouts, you can try something your grandma would do to stay fit, a water workout. Yes, it does help you build immense strength and can be an alternative to your gym workouts, and no, it is not just for seniors. Working out in water can help you build strength as the effects of water and its physical properties like hydrostatic pressure, buoyancy, and density are some of the highly useful resources for training.
Walking in water takes more energy than walking on land, as water puts up resistance from all angles and vectors. Exercising in water can, therefore, be more challenging than regular exercising; however, the risk of injuries are almost none. Additionally, water buoyancy provides additional support to your muscles and joints. Therefore, working out in water can be useful, especially, when you are recovering from an injury or don't want to accidentally strain your joints and want to prevent injuries.
Below are the five strength-building water workouts you should try today.
Start with a warm-up
To start your strength building water workout, you must begin with a set of warm-up exercises. The warm-up is not time-consuming but is important. To start your warm-up, you can jump into the pool and do a slow march in one place. A march where you don't have to walk, you can stay at one place and bring your knees up to your waist level and swing your arms along. This can be repeated for 45 seconds followed by a 15-second break. You can perform 3 sets of this march for warm up.
Move to high-knee sideways
Now that you are done with your warm-up, add a little complication to it by performing sets of high-knees sideways. For this, you can stand in a chest deep pool and march your knees the same way and swing it to the side of the arm on the opposite side. While you perform this workout, you can move laterally through the water instead of walking toward the front.
Now, start carioca
You have performed it on land, and it's fun. You can now enjoy it in the water as well. In water carioca, you need to stand in a chest-deep pool of water and bring your palms in front of your chest facing your feet. Next, you cross your right foot in front of your left foot and move your right shoulder to the direction your right foot is moving to. Now, cross your right foot behind your left foot and move toward the same direction as before along with your upper back moving to that side. Do the same on the other side with opposite limbs to complete one repetition. You can continue this workout for 30 seconds each set with rest of 15 seconds between sets.
Coming to sideways broad shuffle
Upon completing carioca, you can start sideways broad shuffle workout. Here you lift your right leg and move it to the right side by taking a big step and pulling your self sideways. Subsequently, you lift your left leg and take a big step toward the left side to complete a repetition. You can also move to one side for 30 seconds and the other for 30 seconds and repeat each side twice. You can increase your speed to make this work out more effective.
End with a rotational wake
In the rotational wake, you need to take a wide stance in chest deep water with your arms extended forward and your palms touching each other. Now, using your hips and legs, you twist your waist and drive your arms horizontally through the water, rotating 180 degrees each side. You can rotate your arms and body to each side for 30 seconds for one set. You can perform as many sets as you can with a 15-second break between each set.
Join our community of health and wellness enthusiasts today !!
Whether you're looking for new workout ideas, healthy recipes, or information on sexual health, we've got you covered