4 Simple Recipes With Apple Cider Vinegar For Weight Loss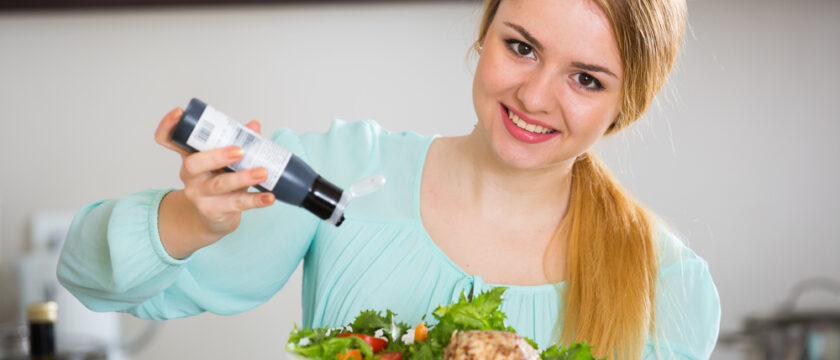 It is one of the oldest remedies to use apple cider vinegar to lose weight. However, it is not advisable to have only vinegar diet for losing weight. By an "only vinegar diet", we mean foods that contain apple cider vinegar. Along with using vinegar for weight loss, it is recommended to add other beneficial foods for weight loss.
Apple cider vinegar is usually recommended for weight loss as it has very low calorific value. There is just one calorie in one teaspoon of vinegar. This avoids excess calorie being stored as fats. Using apple cider vinegar to lose weight is also effective since vinegar improves satiety. So, there is less craving for snacks and other filler meals. Vinegar also contains beneficial acids such as malic acid and acetic acid. These acids improve the gut health. This leads to better bowel movement and digestion. A better digestive system ensures that your metabolism is also working well. This aids in weight loss.
Apart from weight loss, apple cider vinegar also helps in the relieving acid reflux, combating diabetes by increasing insulin sensitivity, normalizing blood sugar level, strengthen the immunity system, and boost antioxidant levels in the body. Thus, organic vinegar can help to improve overall health. To gain the benefits of apple cider vinegar for weight loss, you can drink it by diluting two teaspoons of organic vinegar in a cup of warm water. Or you can incorporate it into your diet with the following simple recipes and have a vinegar diet plan to lose excess flab.
Fenugreek seeds and apple cider vinegar drink
This drink has vinegar for weight loss and fenugreek for better metabolism. It also increases the body's sensitivity to insulin. The bittersweet flavor of fenugreek balances the acidity of apple cider vinegar. To make this drink, you will need one teaspoon of apple cider vinegar, two teaspoons of fenugreek seeds, and one cup of water. In a cup of water, soak the fenugreek seeds over the night. Strain the water into a glass. Add apple cider vinegar and drink the water. This can be taken every morning after waking up.
Green tea infused with apple cider vinegar
Green tea is a health drink that is rich in antioxidants. It boosts the immune system, helps in digestion, and decreases toxicity levels in the body. Also, green tea is an effective relaxant and alleviates stress to an extent. Adding honey and vinegar for weight loss to green tea makes it potent health beverage. To make this tea, you will need one teaspoon of apple cider vinegar, one teaspoon of green tea leaves, one teaspoon honey, and one cup of water. Heat the water and remove it once it starts boiling. Add the tea leaves and leave it to steep for 3 minutes. Cover with the lid while the tea leaves steep into the water. Pour the tea into a cup through a strainer. Add the vinegar and honey. Stir it and sip on it while it is still warm.
Organic vinegar weight loss smoothie
Smoothies are quite good whenever you have any snack craving or random hunger pangs between meals. Smoothies also make for great breakfasts on the go. The best thing about smoothies is the number of healthy ingredients that go into them. You can incorporate the benefits of vinegar for weight loss into your smoothie. This recipe requires one teaspoon of apple cider vinegar, half cup of pomegranate, one teaspoon of chopped apricot, and a bunch of baby spinach. Put all the ingredients in a blender and whisk them to a smooth consistency. Pour the smoothie into a tall glass or in a flask for on-the-go breakfast. This organic vinegar weight loss smoothie is rich in essential minerals and vitamins. This will help not only shed excess weight, but also have a good health.
Apple cider vinegar detox drink
This detox drink with vinegar for weight loss combines the goodness of lemon juice, cayenne pepper, ginger, raw honey, and cinnamon. Warm a glass of water. To this, add two tablespoons of apple cider vinegar, two tablespoons of lemon juice, half or one teaspoon of ground ginger, ¼ teaspoon of cinnamon, and one dash of cayenne pepper. Add one teaspoon of honey for a better taste. Stir the solution well. Drink it while it's still warm or until it cools down to room temperature. This detox drink will help to cleanse the body, give energy, and help to lose excess fats. It is recommended to drink this three times every day 20 minutes before each meal. Do this for two weeks. After two weeks, take it once every day before lunch or breakfast. In case any side effects are experienced, stop the consumption of this detox drink.
Join our community of health and wellness enthusiasts today !!
Whether you're looking for new workout ideas, healthy recipes, or information on sexual health, we've got you covered