5 Easy Exercises You Can Do Using A Hula Hoop Today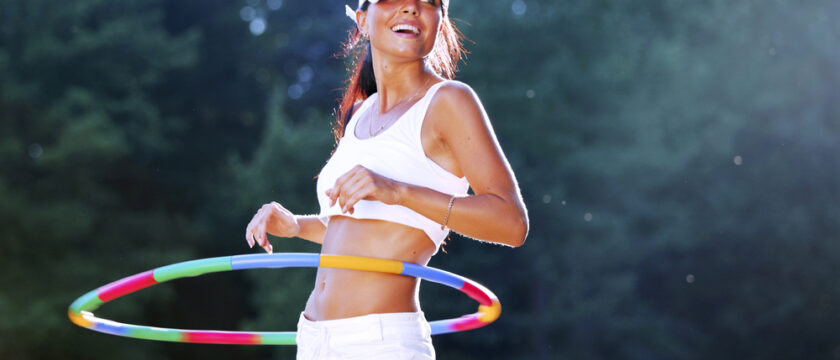 5 easy exercises you can do using a hula hoop today
If what fitness gurus say is true, then you can find exercise props anywhere and everywhere. All you need is the will to perform these exercises, the right exercise instrument, and you have to learn the various exercises you can perform with it. This rule is applicable to hula hoops as well. Well, it might come as a shocker for everyone, but there's more to hula hoops than meets the eye. Hula hoops are more than children's play toys and party games props, they serve as a fantastic exercise equipment as well.
There are several exercises you can perform with the help of hula hoops that have several benefits like a reduced waistline or a flexible body. You can either use a regular hula hoop or weighted one that is meant especially for exercise purposes. Moreover, the best part of exercising with hula hoops is that you don't have to go to the gym or the park to do it. You can do it in the comforts of your homes without the need for an elaborate gym equipment or other paraphernalia. So, go to your nearest toy shop or supermarket and get the perfect hula hoop and start with these exercises for a fitter you.
Below are 5 exercises you can try using your hula hoop today.
The standing twist
This is the most basic of the hula hoop exercises to start with, and the good news is that it is incredibly good for your abs. All you have to do is hold the hula hoop with both your hands and place your legs shoulder-width apart. Once you get the stance right, twist the hula hoop toward your left, keep your lower body straight, and then twist it to your right. Continue this exercise for 5 seconds and keep practicing till you can perform this exercise for 5 minutes.
The rolling reach
The rolling reach is one of the easiest exercises you can perform with the help of a hula hoop. This exercise involves using the hula hoop as a steering wheel, but the only difference is that it this steering wheel will be bigger than the regular ones. You have to hold the hula hoop in front of you and bend forward and the hula hoop should the touch the floor. Once you hold the hula hoop correctly, stand with your legs shoulder-width apart. After you perfect the stance, keep your back straight and roll the hula hoop to the right till you reach one end, and then roll it back to the initial position. This exercise will help your back and legs and get rid of any pain.
Hula hoop V-sit
Performing a V-sit is an incredibly difficult feat, even regular gym goers cannot perform this exercise without struggling. So, use a hula hoop to help you in this feat. Sit on the floor and hold the hula hoop shoulder-width apart. Once you are properly seated, you have to put your feet on the other end of the hula hoop and place your legs hip-width apart. When the stance is perfected, lean backward, keep your back straight, and raise both your legs to form a 60-degree angle with the ground. Also, raise your hands and legs and lower them till your legs are about to touch the ground. Hold the position and repeat the exercise in three sets to get rid of the stubborn belly fat.
Hula hoop arm circles
Here's an exercise that will help you tone your arms and increase your shoulder strength at the same time. This is an incredibly easy exercise and has immense benefits. For this exercise, you have to hold the hula hoop up in the air and circle it with your palms and forearms. While you are at it, you have to keep your elbows slightly bent, and you will feel the burn in your arms and shoulders. This is the indication of the effectiveness of this hula hoop exercise in toning your arms and shoulders.
Knee hooping
This hula hoop exercise does wonders for the thighs, knee, and hips, and you don't have to perform any high-intensity workout for an envious lower body. All you have to do is balance the hoop between your knees and try to hold it in the same position without dropping it. Once you get the position right, start knee hooping with the hula hoop.
Join our community of health and wellness enthusiasts today !!
Whether you're looking for new workout ideas, healthy recipes, or information on sexual health, we've got you covered