5 Popular Wine And Yoga Retreats You Should Know Of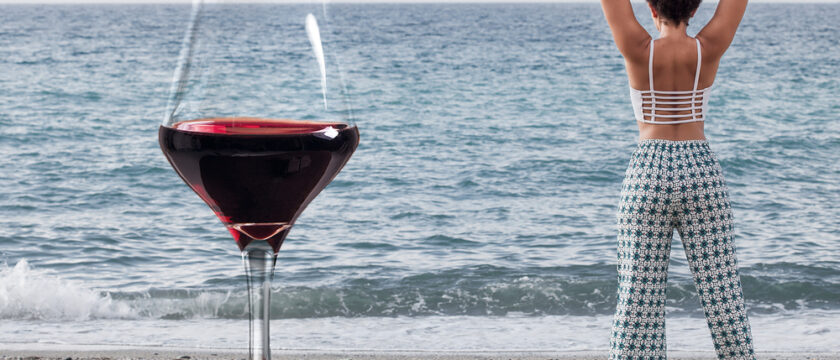 5 popular wine and yoga retreats you should know of
Relatively new, wine and yoga are one of the most sought-after fitness trends at the moment. And why wouldn't it be! This approach has some huge therapeutic advantages to its name. It can effectively help replenish your physical and mental energies which are lost in today's rather stressful, fast-paced life. Likewise, you get a chance to indulge and explore different varieties of wines.
At first, the combination of wine and yoga might come across as conflicting. But it is a rather harmonious one! Interestingly, both wine and yoga offer similar health benefits including a relaxed body and mind, weight loss, improved heart health, increased self-awareness, and more. However, at times, an hour-long wine and yoga class isn't enough. But you know what could be more gratifying? A wine and yoga retreat!
Imagine being disconnected from the high-pitched traffic buzz and mobile notifications, beginning your mornings in the most scenic locations, and then heading for a rejuvenating yoga class along with the finest glass of local wine. Spellbinding, isn't it? Furthermore, participating in wine and yoga retreats can not only help you unwind but can serve as a marvelous opportunity for rediscovering yourself and meet new people.
Currently, due to increasing demands, numerous hospitality brands have introduced luxurious yoga and wine retreats, so there won't be a dearth of options. If you are planning to go on a holiday, check out some popular international wine and yoga retreats.
The Yoga Retreat (Marlborough, New Zealand)
Apart from wine and yoga, this retreat based in the beautiful country of New Zealand, also offers guided hikes, massages, and boat cruises in the Marlborough Sounds along with an elaborate gourmet experience. If you are adventurous and want to take up multiple activities, then the week-long Yoga Retreat in Marlborough is an excellent pick.
Summer Solstice Yoga Retreat (Sonoma, California)
Sonoma is celebrated across the world for is its wines. Therefore, you should consider visiting the Summer Solstice Yoga Retreat if wines are your priority instead of exotic foreign locations. Unlike other retreats that have multiple activities on their itinerary, Summer Solstice Yoga Retreat purely focuses on wine and yoga. However, you will also get to explore the surrounding nature and use the outdoor pool and hot tub in free time. This is an ideal choice if you only have the weekends to spare.
Relax, Renew, Restore (Gozo, Malta)
If you are a beach person, you shouldn't miss the wine and yoga retreat organized by Relax, Renew, Restore in Gozo, Malta. This week-long retreat allows you to spend yoga and meditation sessions on the spectacular beaches stretched along the island of Gozo. Along with refreshing yoga sessions, you will also get to revere the flavors of the locally-made wine. Moreover, you will be encouraged to try local feasts along with aqua adventures such as swimming and snorkeling in the Mediterranean sea.
Glamping Yoga Retreat (Ithaca, New York)
Not a camping person? Think again! The Glamping Yoga Retreat in Ithaca, New York can be a marvelous option if you don't want to fly to another country for a retreat. Equipped with luxurious tents that are furnished with state-of-the-art amenities and outdoor lounges, this retreat is the best medium to connect with nature without compromising on personal needs. The Glamping Yoga Retreat offers outdoor yoga classes, wine-tasting, hiking, and spa services. Like Summer Solstice Yoga Retreat, Glamping Yoga Retreat is planned on the weekends.
Symi Yoga Retreat (Symi Island, Greece)
Want to spoil yourself by the breathtaking Greek shores? Then try the Symi Yoga Retreat! This European wine and yoga retreat gives you an opportunity to relax on the tiny but incredible Symi island. Besides yoga and wine, for eight days you will be pampered with picturesque sights, chocolates, and local cuisine.
Depending on the wine and yoga retreat you pick, the total cost can fall anywhere between $500 and $5000 for every person.
Join our community of health and wellness enthusiasts today !!
Whether you're looking for new workout ideas, healthy recipes, or information on sexual health, we've got you covered