6 Efficient Ways To Deal With The Challenges Of Being A Working Mother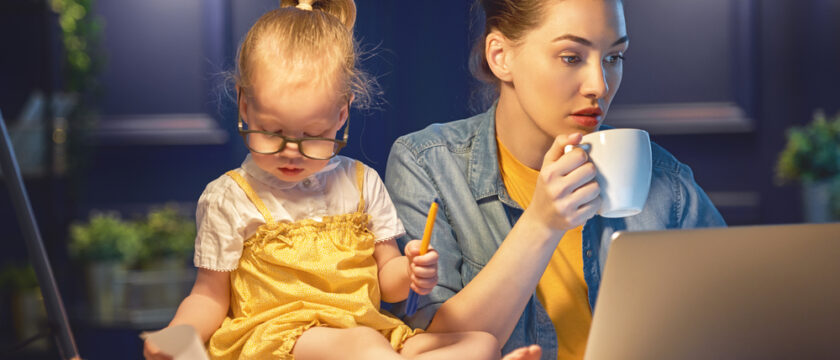 6 efficient ways to deal with the challenges of being a working mother
Motherhood is one of the best stages in a woman's life. However, with the cost of living growing every other year, it has become important for a woman to become a breadwinner as well. A recent study revealed that around four in ten homes in the country have a working mom. Being a working mother can be stressful as they have to manage both personal and professional responsibilities, not forgetting the discrimination they might face in a patriarchal society. This can lead to problems such as stress and feeling guilty for not being able to make enough time; it may also create misunderstandings between spouses. These issues can end up taking a toll on a working mother's mental and physical wellbeing. To be able to efficiently multitask and manage one's personal and professional responsibilities, one must effectively prioritize their tasks and manage their time.
Here is a list of ways that can help a working mother deal with the daily issues they might face without succumbing to the pressure:
Organize your morning schedule – A lack of organization can lead you to start your day on a frazzled note. Deciding on your breakfast menu the night before will give more time to prioritize other aspects of your daily schedule. Try and keep your work bags right next to your house keys, so you can simply grab them and leave for work. Keep the "to-do-list" for the next day handy, and divide the schedule with your partner or spouse. Completing various mundane tasks will allow you to spend some more time in the mornings with your family.
Find quality childcare services – It can be very difficult to be a working mother and look after children. You can ask your network of family and friends if they are aware of experienced and adaptable babysitters or daycare centers. Look for childcare services that can take care of children from different age groups, from toddlers to tweens; you can even look for babysitters that might help your child with their homework if both parents are working professionals.
Organize a family calendar – Being a working mother requires one to set personal priorities so that they don't interfere with the professional commitments. Create a calendar to mark important dates including due dates for bill payments, a list of family and school events, extracurricular activities, birthdays, etc. An easier alternative will be to track these important dates on your smartphone as it will allow you to set reminders for the same. You can even share the calendar with the childcare service you have chosen, as it will help keep everyone on the same page.
Limit distractions – It is important to be disciplined when you are a working mother. You can set time limits for phone calls and checking work emails and text messages, or you can leave these tasks for when the kids are asleep. Avoid multitasking when spending time with your children.
It is, however, also important to maintain a good rapport with coworkers and one might find themselves checking their phone for the same as well; however, casual internet surfing and chats when at home can be a big distraction, which can eat up the time you want to spend with your family and make your day less productive. You can limit these distractions while at home by checking such texts or surfing the Internet during lunch breaks.
Talk to your employer – It is important to maintain transparency with your employer and HR representatives so that they can understand your personal commitments and provide you with some leeway. You must also be prepared to provide alternate solutions. If you are facing discrimination or any sort of harassment that is taking a toll on you as an individual and as an employee, you must ensure to discuss these issues with a higher authority at your workplace.
Involve your family – Being a working mother can be pretty daunting as you might have to take tough decisions and make many sacrifices to stick to your commitments. You may have to accept that there are certain factors that are beyond your control. Providing for your family and being a part of the workforce is a feat you should be proud of. If you feel that you're not being able to provide enough time for your children, you can sit with them and make them understand how your role as a working mother is benefitting the family. The choices a working mother makes may not always work in their or their family's favor; this should, however, not discourage you as there are many uncertainties that one might face. It is essential to go with the flow as it will not let you succumb to pressure.
Being a working mother entails making sacrifices and difficult decisions that may not always tip the scales in your favor. Your contribution to providing for your family is essential and this makes you nothing less than a Super Mom!
Join our community of health and wellness enthusiasts today !!
Whether you're looking for new workout ideas, healthy recipes, or information on sexual health, we've got you covered