8 Aftercare Tips For Your New Tattoo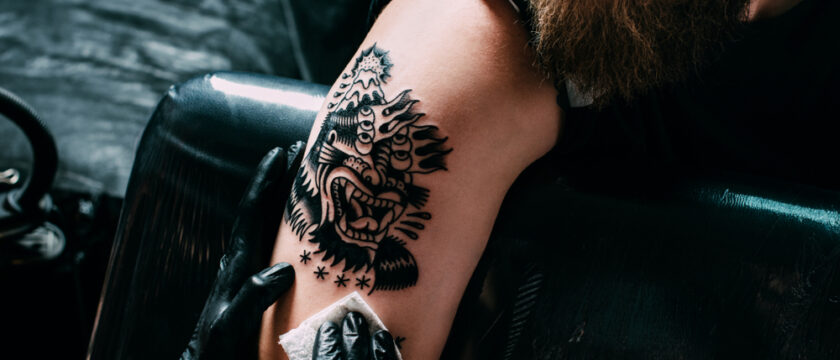 Once you have chosen your tattoo design, you need to ensure you get it done from a reputable tattoo artist under hygienic conditions. After getting inked, tattoo aftercare is the most important aspect of your tattoo journey. Tattoo care should not be taken lightly as it could destroy the look of the design, and more importantly, result in skin infections. Hence, you need to know how to take care of a tattoo as best as possible.
Tattoo aftercare is important because it is your responsibility right from the moment you get out of the tattoo artist's chair. It is necessary to take the right steps in tattoo care routine for your ink to look sharp, crisp, and colorful and avoid the need of a retouch and a refill for the longest time possible.
Your skin essentially becomes a big raw wound, open to all sorts of nasty germs and bacteria when you initially finish getting your sparkling new tattoo at a studio. Correct tattoo aftercare procedures ensure that the tattooed area of skin does not get contaminated with infections. You need to give it an environment that is perfect for the healing process so that it happens as quickly and efficiently as possible. At the same time, the healing process is not the only important factor once you get inked; as you age, so does your tattoo. There are several environmental factors that might dictate how good (or how bad) your tattoo will look as it ages with you.
Read the following article as it will guide you through every single stage of your tattoo aftercare to help keep your tattoo looking perfect even as you age and keep skin infections at bay at the same time.
Avoid pulling off your bandage until told by your artist
While some tattoo artists may allow you to remove your bandage an hour after getting inked, others may ask you to keep it on for the entire day. Tattoo artists know the appropriate length of time that your tattoo needs to be bandaged. Hence, avoid pulling off the bandage against your artist's advice.
Wash your tattoo well after removing the bandage
Washing your tattoo thoroughly and carefully by using warm water and a fragrance-free soap can help you remove excess and/or dried blood and plasma.
Clean your tattoo and pat it dry
Use a clean towel (preferably a paper towel) to pat dry your tattoo. Pat it gently and avoid rubbing, as doing the same might bruise the skin and spread the ink.
Apply a small amount of lotion
After cleaning your tattoo dry, apply a thin layer of your aftercare product/lotion. The lotion will help in moisturizing and nourishing the area and will keep the tattoo ink intact.
Use a fragrance-free soap for washing
Avoid using scented soaps, as the chemicals present in them might react with the tattoo's ink. This could result in discoloration and skin problems. Tattoo artists suggest washing the tattoo using a fragrance-free soap and lukewarm water.
Clean the tattoo regularly until it is completely healed
It is important to understand that your tattoo is not safe from bacteria and germs until it has completely peeling and scabbing. It is recommended to wash the tattoo for at least two to three weeks regularly.
Avoid picking and pulling the flaking skin.
Pulling the new skin grown on the tattoo can cause fading and increase the chances of infection, thereby, delaying the healing process.
Cover your tattoo from the sun
Avoid exposing your new tattoo to intense sunlight as it might result in fading of the ink. Tattoo artists also advice against applying sunscreen lotion to the area until it has healed completely.
Tattoo aftercare is necessary even after the skin has healed completely. Healthy skin means a healthy-looking tattoo.
Join our community of health and wellness enthusiasts today !!
Whether you're looking for new workout ideas, healthy recipes, or information on sexual health, we've got you covered