Everything You Need To Know About Cataract Surgery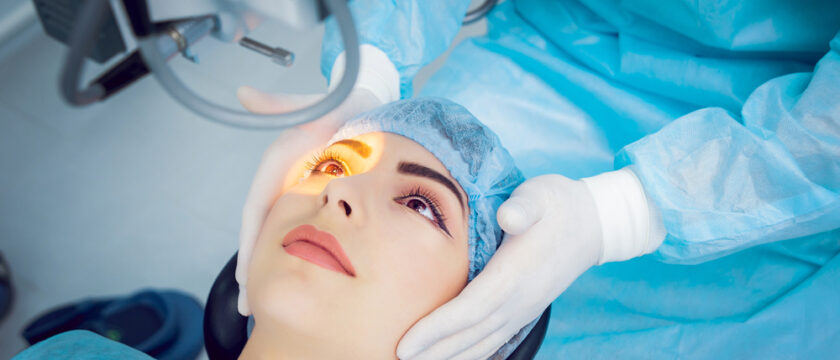 Affecting over 20 million Americans, cataract is a common condition that impacts the vision by making it cloudy or blurry. Typically, cataracts are observed in older individuals (aged 50 or above). However, cases involving congenital conditions, uncontrolled diabetes, exposure to radiation or toxic substances and traumatic eye injuries can also lead to cataracts. Unhealthy habits like smoking and drinking too, amplify the risk of cataracts.
Glasses and contact lenses can be used in the early stages of cataract to improve the focus of the vision. However, as the cataract progresses, it will significantly affect the eyesight which can't be adjusted with glasses or lenses. Eventually, when this condition begins to interfere your routine activities, doctors might suggest cataract surgery.
Cataract surgery
In most cases, cataract surgery is an effective and safe alternative for patients. To improve the vision, the ophthalmologist will remove the lens of the affected eye, replacing it with an artificial one. There are two types of cataract surgeries:
Phacoemulsification (small-incision surgery)
In this procedure, tiny incisions and ultrasound (sound waves) are used to split the lens into small parts. It is the most common form of cataract surgery. Surgeons might also use a laser equipment for this surgery.
Standard extracapsular cataract extraction (ECCE)
Unlike, small-incision procedure, in this technique, the surgeon opens the lens and its front portion. Then the impacted lens is cautiously taken out in one piece.
After the damaged lens is taken out, the surgeon will replace it with intraocular lens (IOL), which improves the eyesight by converging light on the back of the eye. These implants can either be made of silicone, acrylic or plastic. The best part about IOLs is that they effortlessly become a part of the eye and require no upkeep. Fixed-focus monofocal, multifocal, accommodating-focus monofocal and toric are some of the most common lenses used in cataract surgeries.
In some cases, patients might experience certain complications such as infections, inflammation, bleeding, dislocation of the artificial lens, retinal detachment, drooping eyelid, and secondary cataract. If an individual is already battling an eye disorder, there might be other serious problems like the development of glaucoma and loss of vision. Therefore, it is crucial that you discuss the possible risks with your doctor before opting for cataract surgery.
Preparing for a cataract surgery
Before the procedure is performed, you will be asked to:
Get an ultrasound
Almost a week before the surgery, the ophthalmologist will use an ultrasound test to assess the eye's size and shape. Such diagnostic measure will help them select the right type of intraocular lens.
Use antibiotic eye drops
A day or two before the surgery, you will be asked to use antibiotic eye drops to minimize the risk of infections.
Stop using certain medicines
If you are already on a medication course for another health condition, you will be temporarily asked to halt its consumption. This is because some prescription drugs can increase the risk of bleeding during the surgery.
Fast before procedure
You will be asked to not eat or drink anything 8 to 12 hours before the surgery.
Usually, this surgery is conducted as an outpatient procedure, i.e., the patient doesn't have to stay in the hospital overnight. Therefore, make sure that you have a family member or friend to drive you home as well to help you with routine activities for at least for a week.
Recovery period for cataract surgery
After the cataract surgery, you will be required to wear a protective shield or an eye patch for a few days. The vision will start improving within a week, although in the beginning, it might be blurry. This is only because the eye healing and growing accustomed to the new lens. The ophthalmologist might also prescribe some medications and eye drops to keep infections at bay. At times, some patients will be injected with steroids to prevent inflammation. Typically, it takes 8 to 10 weeks for the eye to heal completely.
For most people this surgery permanently restores the vision, however, some patients might develop PCO (posterior capsule opacification or secondary cataract. It arises when the backside of the lens capsule begins to get cloudy. This can be treated with a short outpatient procedure known as YAG (yttrium-aluminum-garnet) laser, in which a laser beam forms a tiny opening in the affected capsule to make a clear channel so that the light can pass.
Cataract surgery costs
The total expense of this corrective procedure comes roughly around $3,500 per eye. Laser cataract surgery costs can be relatively more expensive. However, both procedures are equally safe and effective, therefore your focus should be on selecting the best surgeon.
Fortunately, the cataract surgery is covered by insurance programs like Medicare and other private healthcare providers. However, there's a catch. Most medical insurance plans only cover the basic, traditional surgery for cataract and may not include premiums solutions that involve the use of state-of-the-art technology. The out-of-pocket expenses might even include prescription eyeglasses, comprehensive eye exams, anesthesiologist's fees and follow-up check ups outside the standard 90-day window for postoperative care. Furthermore, if you have to undergo a laser procedure due to a complication after the surgery, then the insurance might not cover the expenses for it.
Join our community of health and wellness enthusiasts today !!
Whether you're looking for new workout ideas, healthy recipes, or information on sexual health, we've got you covered