Here'S How Nasal Sprays Help With Dry Nose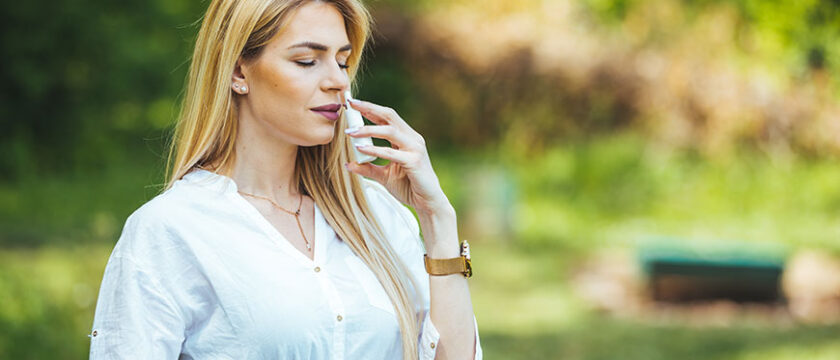 A dry nose is a very common condition that affects most people and can cause immense discomfort. Although the issue is not a disease and doesn't have fatal effects, it brings with it a certain risk if not attended to in time. Along with helping in taking in the smells around you, the nose also allows the inhalation of thousands of liters of air every day. It undertakes the warming of the air one breathes before letting it pass through the lungs. This action is necessary to prevent the pollens and germs that can infiltrate the respiratory system. When the nose dries out, there is difficulty in performing these basic functions.
The nose requires a certain level of humidity to stay healthy and there are some conditions that can obstruct its wellbeing. The nose is at a risk of getting dry in extreme conditions that are hot and dry, which lead to loss of humidity. Also, low humidity levels and constant exposure to the air conditioner can trigger the problem. Apart from the environmental condition, the following reasons can be responsible for causing dry nose:
Medications – In certain cases, extreme cry nose can be traced to be a common side-effect of using simple prescribed or over-the-counter drugs. Several times, people use medications for allergies and nasal sprays for runny noses. These medications can contain atropine that is responsible for having a drying effect on the nasal passage.
Oxygen therapy – People who suffer from a breathing problem are typically asked to use a CPAP machine to help them breathe with ease through the night. However, this therapy can lead to drying of the nose if used over a long period.
Diet – According to some finding, an individual's diet can have a drying effect on the nose. If you do not drink enough water and your body is dehydrated, reciprocation may be seen in the form of a dry nose. Moreover, dehydrating foods like alcohol and salt can further worsen the condition.
Dry nose, in extreme cases, is accompanied by symptoms which will depend upon the severity. Some of the signs that can come into notice include sudden bleeding, redness and swelling in the nose, congestion, and inability to breath, flaking inside the nose, and even alterations in the smell.
Treatment for dry nose
The nose is an organ that carries out important functions and thus it is important to take care of it for maintaining a healthy lifestyle. A dry nose can lead to excruciating headaches and trigger a sinus attack if the condition progresses. There are several ways that are shown to be effective in getting relief from the condition. One can use coconut oil, steam, humidifier, etc. but nasal sprays for the dry nose are found to bring quick results.
Nasal sprays for dry nose
The best nasal sprays for the dry nose are intended to treat the common causes that lead to dryness in the nose. There is more than one type of nasal sprays that can help your condition after understanding the cause. A decongestant nasal spray is used to decrease the swelling and in the blood vessels of the nose that is led by colds and allergies. On the other hand, stuffiness and itching caused by an inability to withstand allergens are treated by nasal sprays that contain antihistamines. In some cases, the doctor may prescribe a nasal spray that combines a combination of ingredients to treat dry nose.
Can you use a homemade nasal spray for the dry nose?
Yes, if you do not wish to use medicated nasal sprays, you can make one yourself. A saline nasal spray is a sterile preparation of saltwater that works at humidifying the mucous membranes present in the nose. This nasal spray helps in clearing the crust on the cilia for appropriate functioning. This spray can also be used on regular basis to prevent nasal dryness as it does not come with side-effects. Medicated nasal sprays for the dry nose are designed for short-term and can aggravate the condition if used too long, making saline nasal sprays a good option.
All you need to prepare a saline nasal spray for a dry nose is 1 teaspoon of salt, ½ cup of water, and a spray bottle. Mix the water and salt to make a saline solution and pour the same into the spray bottle.
Using the saline nasal spray is as simple as using an over-the-counter spray. Bend your head towards the floor and spray the water into your nose a few times before it drips onto the floor. A saline spray can be used as often as you wish or 3 times a day. Inhaling this nasal spray will bring quick relief to the dry nose and prevent congestion.
Join our community of health and wellness enthusiasts today !!
Whether you're looking for new workout ideas, healthy recipes, or information on sexual health, we've got you covered