Sensitive Teeth Causes And Treatments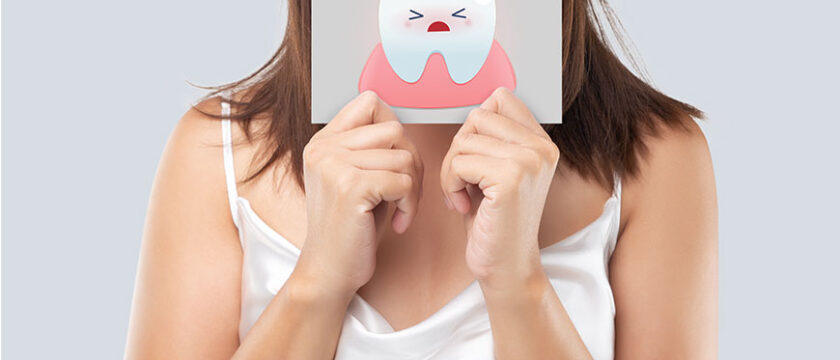 Also known as dentin hypersensitivity, sensitivity causes temporary, sharp pain in the teeth which could be intermittent or persistent. Typically, it occurs after eating or drinking something cold or hot. Some of the common cause of sensitive teeth are as follows:
Tooth erosion due to the consumption of foods or beverages that are highly acidic
Tooth enamel that is worn out due to abrasive bristles of toothbrush
Gum recession that can expose your roots
Grinding teeth
Tooth decay, poor state of fillings or broken teeth that uncovers the dentin of your tooth
Sensitivity after getting dental procedures like fillings, crowns, cleaning or bleaching
How can sensitive teeth be treated?
To treat sensitive teeth, you will have to first figure out the main cause behind it. This will help you select the right treatment for alleviating the discomfort caused by sensitivity.
Eroded tooth enamel
One of the most common causes of sensitive teeth is worn out enamel. If this protective layer of your teeth is impacted, you can take some of the following measures to minimize the sensitivity.
Brush your teeth gently – If you abrasively clean your teeth, then you should immediately stop as along with the plaque you might also be scraping away the enamel. Therefore, gently clean your teeth with a soft-bristled brush. And instead of moving the toothbrush sideways, use small circular movements or swivel the brush at a 45-degree angle effectively clean the teeth. You can also find toothpastes for sensitive teeth available in the market, which can help ease the distress while brushing. Your dentist can also prescribe you with fluoride gels and desensitizing pastes.
Change your diet – If you have been binging on acidic foods and drinks like candies, sodas, or high-sugar carbs then you stop having them. All these drinks and foods can erode the enamel. You should substitute these with dairy products like milk, yogurt or cheese, and fiber-rich fruits and vegetables which will fight the excessive acidic content in the mouth. If you have any acidic foods, ensure that you immediately drink water to dilute acidic elements. Moreover, don't brush immediately after you have had something acidic, as your teeth will be more vulnerable to enamel erosion. Wait at least for an hour before your brush or floss.
Stop clenching your teeth – Grinding your teeth consistently for an extended period can eat away the enamel. If you grind your teeth due to stress, you should address it as soon as possible. If you are still struggling with this problem, then consult your dentist who can get you a mouth guard or splint. In severe cases, a procedure or use of muscle relaxants might be necessary to correct the condition
Don't bleach – It is common to experience sensitivity after bleaching your teeth. However, if the pain seems to be extremely sharp, then stop bleaching teeth for a while. If you have to get your teeth bleached, discuss the sensitivity issue to your dentist before the procedure.
Address the dental problems
At times, tooth sensitivity can be a symptom of another dental condition. Therefore, it is before trying any home remedies get your teeth examined to pinpoint the exact cause.
Shrinking gums – If you are 40 years or older, then your gums might start to project signs of deterioration, i.e., moving away from your teeth and exposing your teeth roots. These roots aren't protected by any enamel, so they are at a higher risk to suffer from sensitivity than the other parts of the tooth. If you sense that the gums are receding, notify your dentists as it can be an indicator of gum disease. In some cases, individuals might require gum graft which involves using tissues from other parts to cover the exposed gum area.
Decay – If the decay spreads to your tooth's root, it can cause sensitivity. To treat this condition, the dentist will recommend a root canal procedure to clean and disinfect the affected areas and use a sealant to cover it.
Gum disease – An accumulation of plaque and tartar on your teeth can cause the gums to recede and trigger sensitivity. If it is left untreated for long, it can permanently damage the bone support of your tooth. To prevent this condition from worsening, the dentist might use the scaling procedure (deep cleaning) that scrapes the plaque and tartar near the gum line. They might also prescribe you with some medicines or perform a surgery. Also, remember that smoking amplifies the risk of gum disease. Therefore, if you smoke, you should quit this habit for good.
Cracked tooth – If an injury leaves a crack in your tooth, it can go deep down to your root. If the crack is shallow, i.e., your roots are unaffected, then the dentist can fill it. However, if the crack has impacted the root, then the tooth has to be pulled out as it can cause severe sensitivity.
Join our community of health and wellness enthusiasts today !!
Whether you're looking for new workout ideas, healthy recipes, or information on sexual health, we've got you covered