Wine And Yoga – The Latest Power Couple Of The Fitness Industry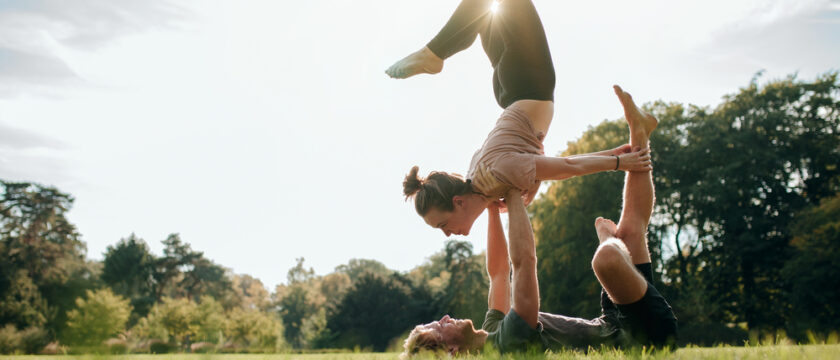 Wine and yoga – The latest power couple of the fitness industry
You know what's an absolute dilemma on a Friday night? Choosing between the gym or the bar during happy hours! Hitting the gym means you lose out on booze and a much-needed socialization session with friends. Alternatively, if you choose to party, guilt will definitely creep up as the night ends and your fitness goals will pile up. But, what if you could do both? You're probably guessing that, "it sounds too good to be true!" As a matter of fact, there is a latest fitness trend that allows you to tread on this very idea—wine and yoga!
Initially, the pairing of wine and yoga was frowned upon by numerous yogis. Primarily because instructors believed that incorporating wine in yoga classes can defeat the purpose of achieving physical, mental, and spiritual balance, making it an unlikely union. Then again due to its novel approach and results, wine and yoga have attracted countless followers, since its introduction in the past decade.
A somewhat lukewarm debate still exists among yogis regarding the eccentric combination of wine and yoga. Nonetheless, wine and yoga together is a great example of how two ancient practices can be creatively evolved to make the modern fitness experience more fulfilling.
Read further to know about some key benefits of uncorking your chakras with wine and yoga.
Socially-rewarding
Practicing yoga is a solitary experience even when you are in a room full of people. A wine tasting session during or by the end of the yoga class gives you an opportunity to go around the place and talk to people. Building social connections will not only help earn new friends but also keep you motivated in other areas of life. Moreover, such consistent socialization in a positive environment will help lower your blood pressure and stress levels.
Beats anxiety
It is no surprise that both, wine and yoga can calm you physically as well as mentally. The only difference is that wine relaxes you quickly and yoga requires some patience to master calming techniques. If you are dealing with any anxiety issues, then trying the wine and yoga approach can get you the best of both worlds. Having wine during a yoga session can relax your senses and help even out your breathing patterns. Consequently, this will empty your mind, so that you could concentrate better on complex asanas. A glass of wine can maximize the effect of a particular pose and help tackle anxiety in the long run.
Burns more fat
Yoga asanas are renowned for their weight loss results. Moreover, yoga also helps in toning the body. Although, burning fat with yoga might take a while. Here's where the wine comes into the picture. It contains a compound known as resveratrol that encourages weight loss. Wine helps convert white fat into beige fat that is easier to burn. Moreover, both yoga and wine lower the cortisol levels, an infamous stress hormone that triggers overeating when a person is tensed.
Boosts cardiovascular function
Certain studies exhibit evidence that drinking a glass of wine a few times every week along with regular physical activity can keep the heart young. Combining wine and yoga can prevent chronic heart ailments and keep the cholesterol levels in check. Moreover, wine and yoga classes are perfect if you don't prefer high-intensity workouts such as running, aerobics, or cycling.
Self-awareness
The best part about yoga is that it not only delivers weight loss goals but also allows the mind to gain stability and improves the quality of your senses. While having wine in the yoga class, you'll notice that it has become easier to appreciate the subtle undertones of different sweet, spicy, and bitter flavors. This heightened awareness will not only reflect in your taste buds but also in your listening and observational skills.
Yoga and wine definitely come from two different worlds. They demonstrate similar health benefits, but together, this coupling delivers results in a much better way. So, whether, you are a wino, yogi, or neither, you should attempt at least once to be a part of this rather fascinating fitness trend.
Join our community of health and wellness enthusiasts today !!
Whether you're looking for new workout ideas, healthy recipes, or information on sexual health, we've got you covered