9 Simple Home Remedies For Treating Hand Pain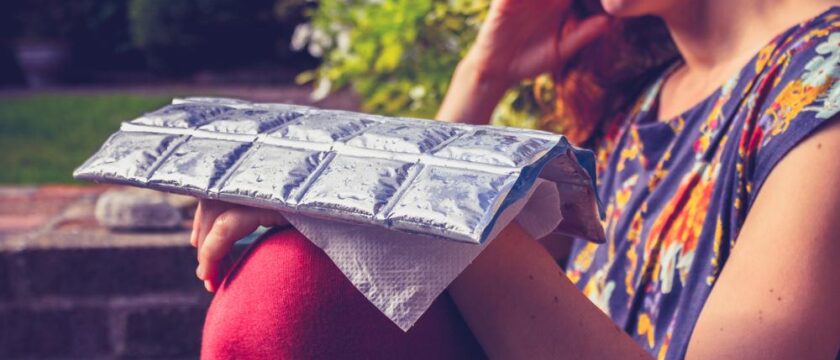 There are a number of home remedies you can try to manage and provide relief from chronic or severe hand pain. The ingredients and topical applications needed are readily available in the market at affordable prices making home remedies the next best alternative to medications.
Fish oil
Fish oil is rich in Omega 3 fatty acids. The fatty acids have rich anti-inflammatory properties to tackle swelling leading to persistent hand pain. Inflammation is one of the number one causes and triggers of chronic hand pain which is why foods sources rich in anti-inflammatory properties prove to be effective. A teaspoon of therapeutic fish oil mixed with boiling water should be consumed on an empty stomach in the morning to be effective. This remedy should be continued till the pain subsides.
Cold compress or pack
Inflammation and pain can be controlled with a cold compress or ice pack. However, this is just a temporary remedy. The cold compress allows the affected area to go numb and temporarily curbs the pain. However for prolonged relief the process should be repeated a number of times for it to be effective. Ice cubes or a cold compress force the body to prevent any bleeding from the underlying tissue and force the muscles to react to the pain, thus eliminating the discomfort in the process. A cold pack is one of the simplest home remedies when it comes to treating or managing hand pain.
Apple cider vinegar
Apple cider vinegar is one of the most versatile ingredients when it comes to incorporating in a number of recipes for managing hand pain. A couple of teaspoons of apple cider vinegar mixed with warm water, some pure organic honey, should be consumed at least twice a day for the home remedy to be effective. The vinegar is rich in minerals and nutrients like magnesium, calcium, phosphorus, and potassium all collectively effective in tackling the inflammation which leads to hand pain.
Olive oil
For topical treatments and home remedies, olive oil proves to be effective for treating hand pain. A mixture of olive oil with lavender oil should be applied on a regular basis to the affected area. Olive oil is rich in anti-inflammatory properties due to the presence of oleocanthal to provide long-term relief from hand pain. Lavender oil, on the other hand, has a soothing effect which is good for managing the pain. Oil massage should be done as and when needed.
Peppermint oil
Swelling and inflammation are one of the persistent symptoms leading to severe hand pain which is why medical professionals recommend oils and topical applications rich in anti-inflammatory properties. Peppermint oil also has natural cooling effects courtesy of the menthol present to reduce the heat, swelling, and provide long-term relief from the inflammation. External oils are a great topical home remedy since they are absorbed right into the skin.
Hot and cold therapy
This one of the oldest and simplest therapies when it comes to treating hand pain. The hot and cold therapy uses a combination of a hot pack, and cold compress to provide long-term relief from the varied symptoms and causes of hand pain. Hot therapeutic gel packs are used to warm up the muscle and relax the stiff joints. Step two is applying a cold compress or ice pack to calm down the stimulated muscle due to the hot pack and repeat this process as and when needed to manage hand pain. You have to be careful while applying hot and cold compresses since improper technique can aggravate the pain and cause discomfort.
Salt bath
There is nothing better than a salt bath, especially when you are using Epsom salts. Warm baths relax the muscles which are stiff causing hand pain due to the inflammation. Epsom salts are rich in magnesium which is effective for managing hand pain. Epsom salt activates the magnesium and invokes a number of biochemical responses from the body which in turn curbs the pain, thus providing long term relief.
Hand exercises
One of the simplest home remedies that does not involve any preparation for managing hand pain. Exercises stretch the muscles and ensure proper movement and blood flow to the vital points. Nerve impulses are vital for controlling movements through signals sent by the brain. Simple bending and stretching of fingers will allow for adequate movement, and these exercises should be performed on a regular basis. However, it is advisable to not overdo any exercise since the pain can be aggravated due to overstretching or bending for that matter.
Proper diet
It all comes down to diet if you are looking for long-term relief from hand pain. Very much similar to using topical treatments for hand pain which are rich in anti-inflammatory properties, you can also incorporate food sources which have inherent properties to control the inflammation thus managing pain overall.
Join our community of health and wellness enthusiasts today !!
Whether you're looking for new workout ideas, healthy recipes, or information on sexual health, we've got you covered