6 Health Benefits Of Proteolytic Enzymes-Enriched Foods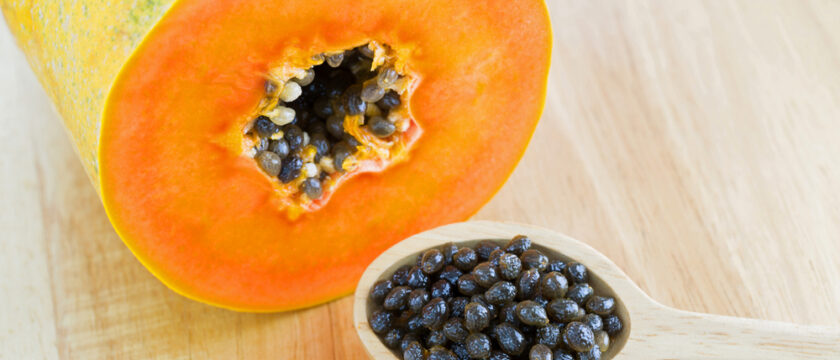 The human body has nearly 75,000 enzymes. These enzymes are divided into three categories—metabolic enzymes, digestive enzymes, and food enzymes. Proteolytic enzymes are digestive enzymes. These along with lactase, lipase, maltase, and sucrase break down the food we eat into essential nutrients. Proteolytic enzymes are especially useful for breaking down proteins into amino acids that are easily absorbed in our system. Some of the major types of proteolytic enzymes are trypsin, pepsin, papain, chymotrypsin, carboxypeptidase A, and carboxypeptidase B. These enzymes are found in various foods such as papayas, kiwi, ginger, miso soup, kefir, pineapple, and bananas. Adding these foods to our diet gives us various health benefits which include the following.
Control injury inflammation and improve blood flow: Eating foods rich in proteolytic enzymes help in controlling inflammation caused by an injury. This is quite beneficial for athletes and people who do intense workouts. The enzymes reduce capillary permeability and dissolve deposits of fibrin and microthrombi, which are responsible for forming blood clots. The viscosity of blood also reduces. This improves blood circulation, oxygen supply to blood, and nutrient supply as well. This also helps in transporting away waste products away from the injured area. The proteolytic enzymes reduce pain and inflammation by breaking down cellular debris and plasma proteins at the injured site. The proteins and debris can then easily pass through the lymphatic system, which results in reducing the swelling around the inflamed area.
Prevent heart disease due to diabetes and atherosclerosis: Papayas are rich in a type of proteolytic enzymes known as papain. These enzymes help in the prevention of heart disease caused due to diabetes. They also help in the prevention of atherosclerosis. Moreover, papayas are rich in antioxidants, vitamin A, and vitamin C. These help in controlling bad cholesterol and prevent arteries from clogging. This lowers the risk of heart disease.
Alleviate inflammation caused by IBS and ulcerative colitis: It has been observed that a specific type of proteolytic enzymes can help alleviate the symptoms of irritable bowel diseases. These enzymes also help in controlling the symptoms of ulcerative colitis. Eating proteolytic enzyme-enriched foods such as honey, pineapple, papaya, mango, and bananas lowers the risk of diseases such as constipation, diarrhea, abdominal bloating, and pain. The severity of these diseases also reduces when foods containing proteolytic enzymes are added to the diet.
Give a boost to the immune system: One of the significant functions of proteolytic enzymes is to strengthen the immune system. These enzymes also work towards destroying antibodies that weaken the immune system. The generation of antibodies is a natural part of the immune system. However, an excess of antibodies can cause nerve inflammations, rheumatologic diseases such as rheumatoid arthritis, and kidney diseases. Proteolytic enzymes such as papain and trypsin that are found in foods such as papaya and pineapple can help in the prevention of excess generation of antibodies.
Lower risk of cancer: Proteolytic enzymes have been known to help in the prevention of stomach cancer, bile duct, and colon cancer. The fiber and enzymes found in foods such as papaya, avocados, ginger, bananas, and pineapple help in combating carcinogenic substances. These toxic substances are removed from the body and prevented from attacking the healthy cells in the body. Moreover, these foods contain folate, vitamin E, vitamin C, and beta-carotene, which also lower the risk of various other types of cancer.
Alleviate muscle soreness: Those who do regular workouts know that delayed onset muscle soreness occurs three days after an intense workout. Eating foods rich in proteolytic enzymes or having supplements containing these enzymes help in reducing muscle soreness and speeds up muscle recovery. It is especially recommended to have proteolytic enzymes blended with curcumin and bromelain. This also helps to reduce muscle pain and tenderness after working out. Most people usually prefer supplements and energy drinks enriched with these enzymes. However, it is best to have them in their natural form. These can include salads and smoothies made from papayas, pineapple, avocados, kiwi, and yogurt.
Join our community of health and wellness enthusiasts today !!
Whether you're looking for new workout ideas, healthy recipes, or information on sexual health, we've got you covered