7 Effective Home Remedies For Stretch Marks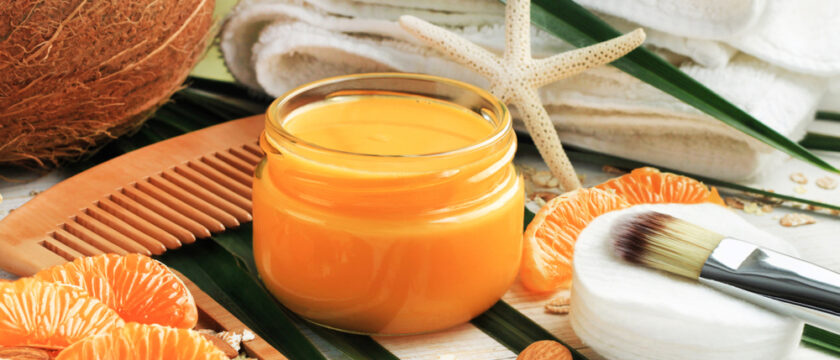 7 effective home remedies for stretch marks
Stretch marks look like bands of parallel lines on your skin. Stretch marks have different textures and colors than your normal skin, ranging anywhere from bright pink to purple to brown. It is be caused due to sudden weight loss or weight gain, hereditary factors, stress, etc. If you are looking for ways to reduce stretch marks and its visibility, mentioned below are some effective home remedies:
Sugar
Microdermabrasion is a procedure performed by a dermatologist that makes the stretch marks fade eventually. Sugar acts as an effective home remedy for stretch marks and provides similar outcomes to that of a microdermabrasion. Simply rubbing a sugar scrub on your skin helps in exfoliating the area. You can do this by mixing 1/4th cup of sugar with coconut oil or almond oil and add some lemon juice. Use this mixture on the part of your body where there are stretch marks. Scrub repeatedly several times a week while taking a shower and ensure that you rub it for at least eight to ten minutes.
Vitamin A
Vitamin A is also known as a retinoid. Vitamin A helps in making the skin appear more youthful and smooth. It is also used in many over-the-counter cosmetic creams. Consuming vitamin A orally or a topical extract of vitamin A helps in making the skin appear healthy as well as enhances its overall appearance. Even including certain foods in your diet, such as sweet potatoes and carrots, helps in increasing vitamin A levels in your body. There are various researchers that have concluded that vitamin A reduces the appearance of stretch marks.
Hyaluronic acid
Hyaluronic acid is one of the key components that gives your skin a properly hydrated and plump look. It acts as an anti-aging and anti-wrinkle agent that increases the elasticity of the skin and moisturizes it. It also stimulates the production of collagen, which is a protein that helps the skin to be firm and healthy. As we age, the production of collagen decreases in our face and body. Consuming hyaluronic acid in the form of a capsule or other extracts proves to be a simple yet effective home remedy to get rid of stretch marks.
Cocoa butter
A mixture with cocoa butter as the key ingredient and wheat germ oil, apricot oil, kernel oil, vitamin E oil, or beeswax is great for getting rid of stretch marks. This mixture proves to be quite effective as it helps in hydrating the skin and making it smoother. Simply apply the mixture twice a day to the area where there are stretch marks, and after a few months, they will eventually vanish.
Aloe vera
There are clinical pieces of evidence which prove that aloe vera is good to cure stretch marks and hence is one of the best home remedies for stretch marks. Applying aloe vera gel once or twice a day helps in fading the stretch marks which vanish eventually. This is because it helps in soothing the skin and fastening the process of healing as it increases collagen synthesis. Moreover, it has antioxidant properties and contains vitamins, enzymes, and minerals that are great for the skin.
Coffee scrub
Coffee is high in caffeine which stimulates the degradation of fat and it is filled with antioxidant properties. Using a coffee scrub, therefore, is a great natural remedy that helps to enhance the blood flow in the area where stretch marks are visible. To make the scrub, all you need is coffee grounds and water, mix it together and then scrub it on the affected area. Scrub in a circular motion gently for three to five minutes and rinse it with warm water. This is an easy and effective home remedy for stretch marks as well.
Olive oil
Slightly warm some olive and massage on the area that has stretch marks. Don't wash off the olive oil to get the best results. Olive oil helps in relieving several skin problems including stretch marks. It is rich in vitamins, antioxidants, and other nutrients, and hence is a great home remedy for stretch marks.
Join our community of health and wellness enthusiasts today !!
Whether you're looking for new workout ideas, healthy recipes, or information on sexual health, we've got you covered