Periodontal (Gum) Disease: Causes, Symptoms, And Proven Treatments
Fact checked
By Azrung Fayaz, Doctor of Internal Medicine | MBBS, FCPS, MRCP
Last Updated on November 29th, 2023 / Published on October 9, 2023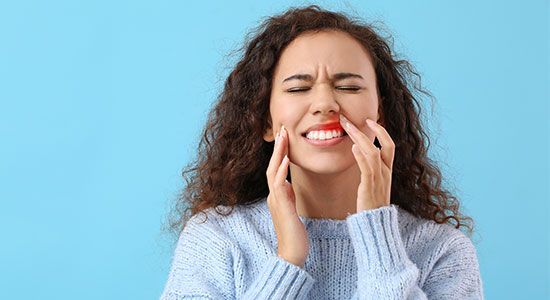 Gum disease, also called periodontal disease, isn't a dental problem; it's an emerging health crisis. Did you know that half of all US adults1 have some form of gum disease?
Having gum disease is not just about dealing with sore gums. The emotional and physical toll is immense. It can affect your well-being, confidence, and quality of life.
With the correct information and care, you can tackle periodontal disease. This blog dives deep into periodontal disease. It breaks down its causes, symptoms, and effective treatments.
What Exactly Is Periodontal Disease?
Periodontal disease is the infection and inflammation of the gums and bones around your teeth. Here's how it develops:
When bacteria stay on your teeth for a long time,² they can form plaque. Plaque is a sticky film of bacteria. If not removed through regular brushing, it can harden and become calculus (or tartar).
The accumulation of plaque and calculus can promote the growth of harmful bacteria.2 This leads to gum swelling.
If not treated, the swelling can cause your body to react in a way that weakens the bone holding the teeth in place. This can further damage both teeth and gums.
How Does Periodontal Disease Differ From Other Dental Issues?
Here's a table that shows how different symptoms of other common dental problems compare to periodontal disease:
| | | |
| --- | --- | --- |
| Dental problem | Description | Common symptoms |
| Periodontal disease | Gum infection | Gum bleeding and swelling |
| Dental Caries | Tooth infection | Pain and sensitivity |
| Noma | Sores in mouth/face | Starts with sore gums |
| Oral Cancer | Mouth swelling | Red sores on lips or inside mouth |
Why Should You Care About Periodontal Disease?
Gum health affects your health. It causes inflammation and genetic changes. Together, these lead to many long-term health problems.
For example, a 2019 study3 links gum disease to:
What Causes Periodontal Disease?
Many dental, behavioral, and systemic factors cause periodontal disease. These include:
Is Periodontal Disease Hereditary?
The genes you inherit10 can increase gum disease risk. Some genes can lead to a weak immune system.11 As a result, the body may not adequately defend against gum inflammation. This can lead to periodontal disease.
Is Periodontal Disease Contagious?
Periodontal disease isn't contagious. But, the bacteria causing it can spread through saliva.12
Only some people who get the bacteria will develop gum disease, though. Many factors,13 as discussed, determine whether you will get periodontal disease.
Periodontal Disease Symptoms: How Do You Recognize Periodontal Disease?
Gum disease gets worse if ignored. This is why it's vital to recognize it early.
Luckily, it progresses through stages. Each stage has its symptoms, which make it easy to recognize.
Here's a summary of each stage:
| | |
| --- | --- |
| Disease Stages | Features |
| Gingivitis | Gum inflammation14 is common. Patients notice bleeding during brushing and flossing. |
| Mild Periodontitis | Early gum recession15 and pockets form. |
| Moderate Periodontitis | Increased inflammation and bleeding. Patients also experience teeth loosening and temperature sensitivity. |
| Severe Periodontitis | Advanced damage: intense sensitivity, pain while chewing, bad breath, and risk of tooth loss.16 |
Does Periodontal Disease Cause Bad Breath?
Periodontal disease can lead to bad breath (halitosis). A 2021 study17 found that over 58% of gum disease patients had bad breath.
This happens for two reasons:
Is Periodontal Disease Treatable?
Early stages of periodontal disease are reversible.
Here's how you can combat it:
Focus on Dental Hygiene to Reverse Periodontal Disease
Good oral hygiene prevents and reverses gum disease. A 156-participant study19 proved this. Healthy oral practices remove plaque and tartar. These are the root causes of periodontal disease.
Proven dental hygiene habits include:
Use Fluoride Toothpastes to Treat Periodontal Disease
Some fluoride toothpastes contain Stannous fluoride. This prevents bacteria from sticking to teeth and growing.
As a result, these kinds of toothpaste can:
Home Treatment and Remedies for Periodontal Disease Can Help
Some home remedies are research-proven to boost gum health. For example:
Medications for Periodontal Disease
Some medications can also treat periodontal disease. These include:
Takeaway
Taking care of your gums is crucial. It's not just about maintaining your smile. Bad gum health can lead to issues with the heart and cause other chronic health conditions.
Gum problems are not only due to poor dental hygiene. Many factors are responsible. For example, some people may have gum issues because of their family genes.
So, brushing, flossing, and seeing your dentist regularly is vital. It's about your whole health, not just your teeth.
Sources
Eke PI, Dye BA, Wei L, Thornton-Evans GO, Genco RJ. Prevalence of periodontitis in adults in the United States: 2009 and 2010. Journal of dental research. 2012 Oct;91(10):914-20.
Hajishengallis G, Chavakis T, Lambris JD. Current understanding of periodontal disease pathogenesis and targets for host‐modulation therapy. Periodontology 2000. 2020 Oct;84(1):14-34.
Sabbah W, Folayan MO, El Tantawi M. The link between oral and general health. International journal of dentistry. 2019 May 29;2019.
Nazir MA. Prevalence of periodontal disease, its association with systemic diseases and prevention. International journal of health sciences. 2017 Apr;11(2):72.
Song TJ, Jeon J, Kim J. Cardiovascular risks of periodontitis and oral hygiene indicators in patients with diabetes mellitus. Diabetes & Metabolism. 2021 Nov 1;47(6):101252.
Kim WJ, Soh Y, Heo SM. Recent advances of therapeutic targets for the treatment of periodontal disease. Biomolecules & Therapeutics. 2021 May 5;29(3):263.
Jeong W, Choi DW, Kim YK, Lee HJ, Lee SA, Park EC, Jang SI. Associations of electronic and conventional cigarette use with periodontal disease in South Korean adults. Journal of periodontology. 2020 Jan;91(1):55-64.
Polak D, Sanui T, Nishimura F, Shapira L. Diabetes as a risk factor for periodontal disease—plausible mechanisms. Periodontology 2000. 2020 Jun;83(1):46-58.
Abu-Shawish G, Betsy J, Anil S. Is obesity a risk factor for periodontal disease in adults? a systematic review. International Journal of Environmental Research and Public Health. 2022 Oct 4;19(19):12684.
Loos BG, Van Dyke TE. The role of inflammation and genetics in periodontal disease. Periodontology 2000. 2020 Jun;83(1):26-39.
Kozak M, Dabrowska-Zamojcin E, Mazurek-Mochol M, Pawlik A. Cytokines and their genetic polymorphisms related to periodontal disease. Journal of Clinical Medicine. 2020 Dec 14;9(12):4045.
Payne MA, Hashim A, Alsam A, Joseph S, Aduse-Opoku J, Wade WG, Curtis MA. Horizontal and vertical transfer of oral microbial dysbiosis and periodontal disease. Journal of Dental Research. 2019 Dec;98(13):1503-10.
Joseph S, Curtis MA. Microbial transitions from health to disease. Periodontology 2000. 2021 Jun;86(1):201-9.
Salvi GE, Roccuzzo A, Imber JC, Stähli A, Klinge B, Lang NP. Clinical periodontal diagnosis. Periodontology 2000. 2023 Jul 14.
Romanov SA, Filimonova LB, Kuznetsov AV. THE PREVALENCE OF DISEASES OF THE PERIODONTAL TISSUES IN THE CONTEXT OF A STUDY OF THE RECESSION OF THE GUMS AND TREATMENT APPROACHES WITH THE USE OF EHF-THERAPY. Surgical practice. 2020 Apr 18(2):39-44.
Helal O, Göstemeyer G, Krois J, Fawzy El Sayed K, Graetz C, Schwendicke F. Predictors for tooth loss in periodontitis patients: Systematic review and meta‐analysis. Journal of Clinical Periodontology. 2019 Jul;46(7):699-712.
Alzoman H. The association between periodontal diseases and halitosis among Saudi patients. The Saudi Dental Journal. 2021 Jan 1;33(1):34-8.
Lee YH, Hong JY. Oral microbiome as a co-mediator of halitosis and periodontitis: a narrative review. Frontiers in Oral Health. 2023;4.
Bosma ML, McGuire JA, Sunkara A, Sullivan P, Yoder A, Milleman J, Milleman K. Efficacy of Flossing and Mouthrinsing Regimens on Plaque and Gingivitis: A randomized clinical trial. American Dental Hygienists' Association. 2022 Jun 1;96(3):8-20.
Figuero E, Roldan S, Serrano J, Escribano M, Martin C, Preshaw PM. Efficacy of adjunctive therapies in patients with gingival inflammation: A systematic review and meta‐analysis. Journal of Clinical Periodontology. 2020 Jul;47:125-43.
Lin HW, Chen CM, Yeh YC, Chen YY, Guo RY, Lin YP, Li YC. Dental treatment procedures for periodontal disease and the subsequent risk of ischaemic stroke: A retrospective population‐based cohort study. Journal of Clinical Periodontology. 2019 Jun;46(6):642-9.
Ohtani M, Nishimura T. The preventive and therapeutic application of garlic and other plant ingredients in the treatment of periodontal diseases. Experimental and therapeutic medicine. 2020 Feb 1;19(2):1507-10.
López-Valverde N, Pardal-Peláez B, López-Valverde A, Flores-Fraile J, Herrero-Hernández S, Macedo-de-Sousa B, Herrero-Payo J, Ramírez JM. Effectiveness of propolis in the treatment of periodontal disease: updated systematic review with meta-analysis. Antioxidants. 2021 Feb 10;10(2):269.
Gheisary Z, Mahmood R, Harri Shivanantham A, Liu J, Lieffers JR, Papagerakis P, Papagerakis S. The clinical, microbiological, and immunological effects of probiotic supplementation on prevention and treatment of periodontal diseases: a systematic review and meta-analysis. Nutrients. 2022 Feb 28;14(5):1036.
Join our community of health and wellness enthusiasts today !!
Whether you're looking for new workout ideas, healthy recipes, or information on sexual health, we've got you covered